#Explore and the ACIM Congress: Day 2
Part of our #LyonTeam, Raphaelle Bats (Enssib) and Juliette Abric (BML), participated in the ACIM Congress. A participative workshop and the presentation of a poster about Explore were some of the actions in those busy March days in Lyon.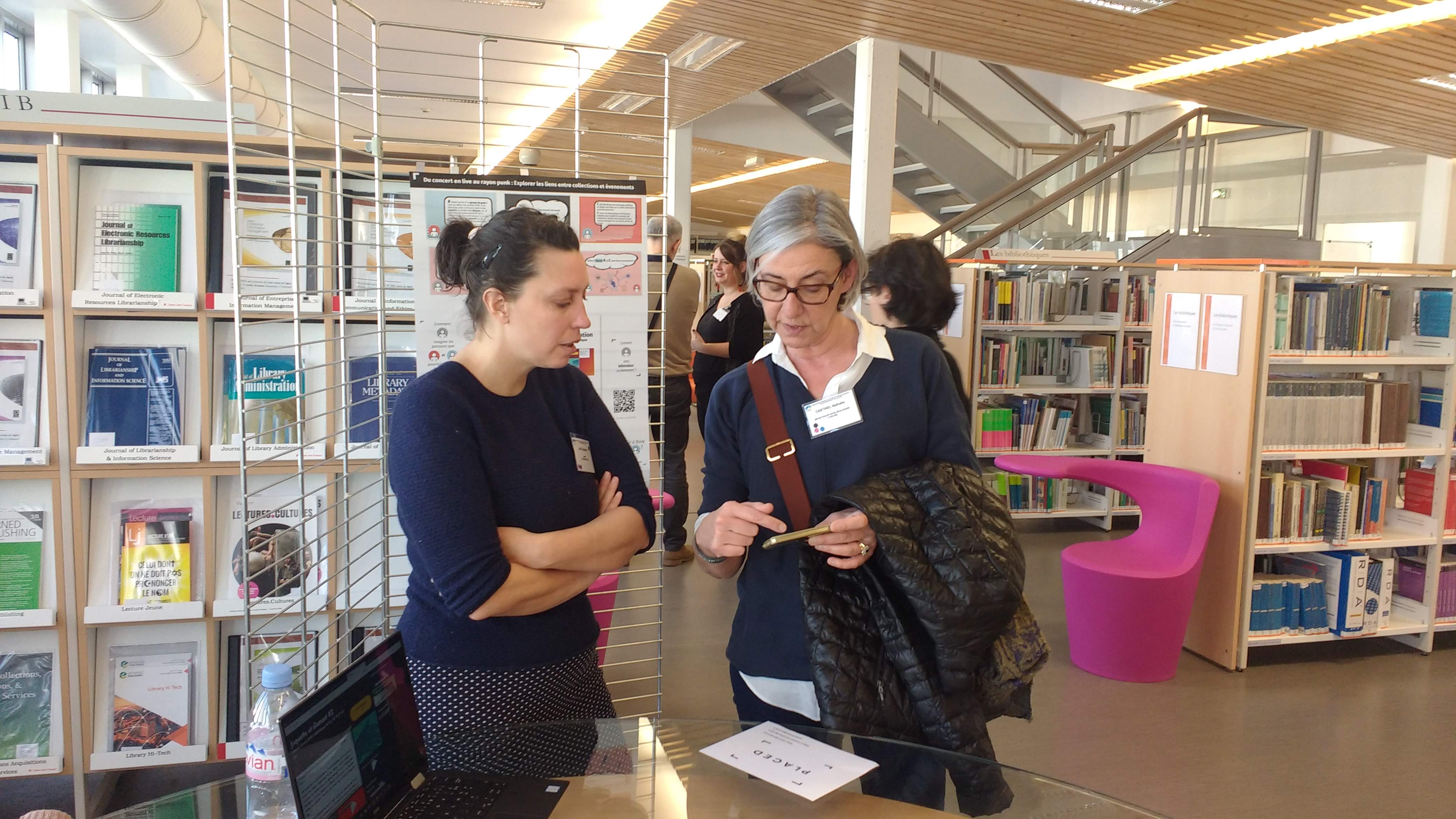 These noises are not normal in a library. Far from the white noise some librarians are used to, the Enssib library is surrounded with a high stream of sound, full of curiosity and interest. Musical Librarians are there because of the Second Day of the ACIM Congress, ready to nurture themselves with some knowledge and inspiring ideas. Poster are already printed, and presenters are already stood to show how creative a musical librarian could be.
Our main characters, Juliette and Raphaelle, are split in two, owing to the presentation of another poster from Juliette's position in the BMLs. What's is in the poster to appeal to so many musical librarians?
The poster tells the story of three characters trying to look some information or to participate in activities related to punk music.
One of them is B. Although B doesn't play anymore, he keeps on going to concerts, buys CDs, etc. He is interested in library events, especially when it comes to punk events. On the other half, C studies political sociology and is writing a thesis on the alternative scene of Lyon. C is an often library patron: local punk groups are a personal focus of interest. Last but not least, J is a librarian whose job is to prepare the collections for C and the events for B. Nevertheless, J is sad because B and C are not crossing each other. That's why J decides to engage in the Placed Project as a way to facilitate the access to the information on events since collections, diffuse a group of information and know how to associate this to events. J's interests are also related by the possibilities of visual exploration of collections and activities.
Based on a collaborative approach, both librarian and designers co-created an interface prepared for potentials patrons. Explore is a platform of events visualisation in libraries collections. Its design included three steps: co-conception, experimentation and observation. Having stepped the first phase, now this platform must be tested in different libraries in the Lyon library network to be followed with a different observation phases on them.
In the ACIM Congress, more than 40 musical librarians from all over France were interested in the subject. Some like N, member of a Lyon Metropole Médiathèque was excited with the idea.
After 4 hours of non-stop lecturing, Raphaelle drinks some water. She makes a hard-breathing sound. The sound of an achieved task.